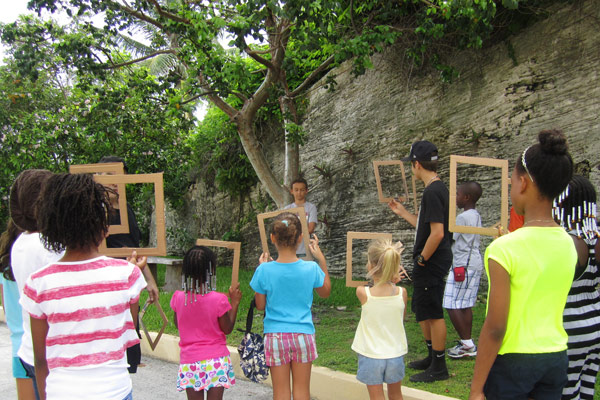 Fifteen children between the ages of seven and 12 got a chance to create a Hallmark moment in a photography workshop with a world-famous photographer and all the equipment they needed donated by the Bahamian Project this week.
The 2-day workshop, held June 19th and 20th at the National Art Gallery of The Bahamas, was hosted and conducted by Lisa and Duke Wells as part of the Bahamian Project, the name given to the creation of a body of photographic work that will lead to a national portrait collection. The first 40 portraits will be unveiled by the Governor General Sir Arthur Foulkes July 11 at the National Art Gallery of The Bahamas, an official event of the 40th Anniversary of Independence.
"While we wanted to capture faces that make up the soul and spirit of the character of The Bahamas with the Bahamian Collection, we also very much wanted to share the joy and meaning of photography with young people, to build the excitement in them so they know that they can capture moments that matter and turn them into memories which last forever," said Duke Wells.
The workshop was designed to introduce children to basic photography — exposure, composition, portraiture — and to build confidence in children by teaching them to learn a new skill for creative expression, said Wells, a well-known photographer whose images have been used in major U.S. advertising campaigns. Children without cameras were given disposable cameras donated by Popopstudios.
"We wanted the children to photograph people in their family and their community and teach them the basics of camera handling, composition, lighting and posing for portrait photos, starting with the basics of understanding camera buttons and controls, to themore subtle significance of composition, posing and using available light." said Wells. "This was the first of many planned workshops and judging by the excitement generated, we expect full attendance at future workshops. Kids see the world differently through the viewfinder of a camera, and with everyone having camera phones now, teaching people how to take good pictures will bring pleasure for years to come."
Wells used black and white to bring out the emotion and strengths in his portraits of Bahamians, a collection that will remain on exhibit at NAGB for three months. The Bahamian Project is in collaboration with the NAGB, Popopstudios and sponsored in part by DP&A and other corporate sponsors and patrons.
By Diane Phillips

Photos by Matthew Cromwell and Lisa Wells