Nestled in an unpretentious shopfront just opposite the Central Bank of the Bahamas and next to the historic Verandah House on Market Street, Cliffie Humes' Barber Shop is as much a part of Bahamian history as the area in which it is located. The whole street has stories to tell of olde Bahama days long gone.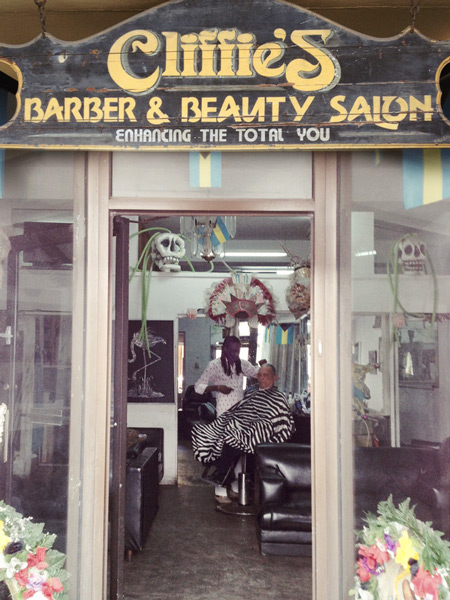 Clifford Humes has been a barber for 50 years and many of his current clients have been with him for about that long. In fact, he has generations of clients. His interest in opening a barber shop emerged in 1964 when he was still in high school. By 1967 he had completed his college training and passed the Florida State Board certification. His style, passion and commitment to excellence made him a well-known name.
Nowe Harris-Smith, a young fine-art and documentary photographer on The Bahamian Project photography team, was assigned to photograph Clifford Humes for the Project. She noted the eclectic mix of objects on display in his shop. Old Junkanoo costume pieces, over-sized ornamental skulls, local artwork, Bahamian flags, and several photos, including a large framed image of Cliffie with past U.S. president Bill Clinton.
Cliffie takes his craft very seriously, and says that barbering is both an art and a science. His barber shop exudes a vibe of comfortable charm and trustworthy experience – as does Cliffie himself.