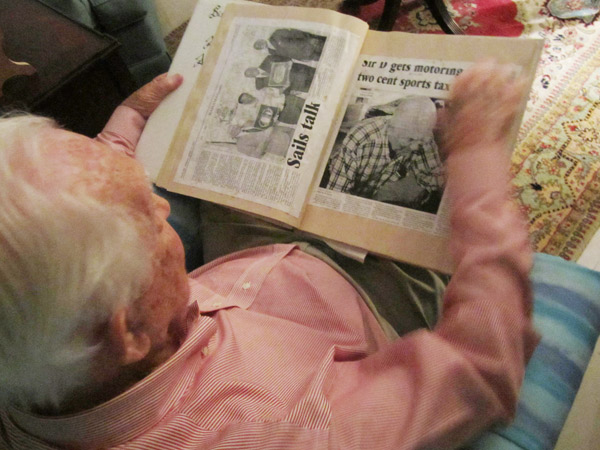 Bahamian sailing legend and Olympic gold medalist Sir Durward Knowles agreed to let us photograph him for the Bahamian Project following a chance encounter at Antonius Roberts' Hillside House. On the day of our scheduled photo session, both Sir Durward and his wife, Lady Holly Knowles, greeted us at the door as if we were long lost relatives.
Almost instinctively, Sir Durward led us into the room where we'd be working. Walking into Sir Durward's trophy room was like entering a one-man hall of fame – there were awards everywhere. Three of the four walls were lined with plaques and certificates, framed photos and newspaper clippings, medals and awards, a gold key to the port of Nassau. The other wall was a large window.
Visually, it was awe-inspiring.
Photographically, it was a challenge.
As we toiled over the complexities of perfecting the lighting, Sir Durward kept us entertained, engaging our small crew with glowing recants of his past glory, detailing and describing his many accomplishments. Peppered throughout his tales were the names of teammates and others he had worked with, emphasizing how much he appreciated those who had been involved.
But despite his surplus of athletic accolades, Sir Durward's most prized achievement was being awarded Rotary International's highest honour – the Service Above Self Award – a highly-coveted bestowal given in recognition of exemplary humanitarian service.
After capturing dozens of photographs, we followed Sir Durward out onto his patio to further discuss our project. And there, overlooking the ocean Sir Durward once conquered, it became obvious that this was another kind of trophy room.
These in progress and documentary photos taken during the photo session at Sir Durward's home. (Photos: Lisa Wells)