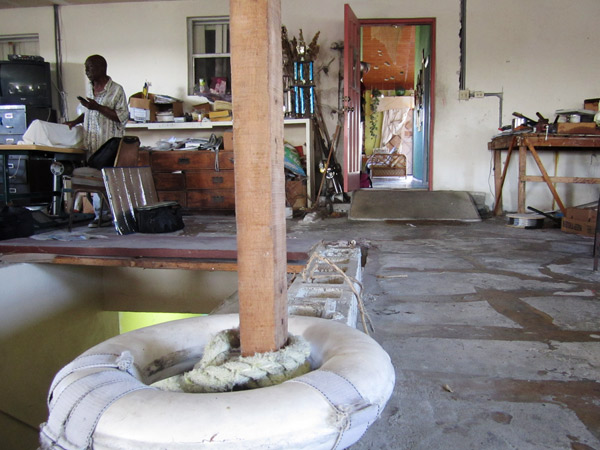 King Eric Gibson is a Bahamian legend. He has also been called a national treasure. The Acklins native, born in 1934, is one of the most famous musicians in the Bahamas. He formed the calypso band King Eric & His Knights in the late 1950s which played in nightclubs and hotels in Nassau, enjoying immediate popularity with tourists.
Later he opened King & Knights Club – a nightclub featuring not only the band, but carnival-style entertainment such as fire juggling and limbo dancing. He encouraged new talent and was responsible for getting many Bahamian singers, dancers and musicians started on their careers, including one of the Bahamas' musical icons – Ronnie Butler. King Eric was also a founding member of the Bahamas Musicians and Entertainers Union.
But music is only one part of King Eric's legacy. Not only is he a legend in Bahamian entertainment but also in the regatta. No one person has contributed more to the regatta than King Eric. It is said that he is responsible for developing the pry – the long narrow board which extends from the sailboat and which is critical to sloop sailing. He is the father of the Acklins Regatta and an avid participant.
Even now, almost 80 years old, he is active in the regatta and maintains a successful racing sloop – the Palm Cay Princess, which he intends to race this year. I have been told King Eric is the "premier sail maker" in the country, even making sails for many of his competitors.
His passion for the regatta is clear but it is more than fun and sport. "The biggest part of the regatta is the economic boost for the islands," said King Eric, and he has toiled to keep it alive and well.
We asked him what he thought was the biggest change -good or bad- that he had seen over the years. "The music industry," he said matter-of-factly as he rubbed his head. "Music used to be the thing of the Bahamas but somehow music and entertainment seem to be in the background now. And I think if they would bring music and entertainment back to the forefront as it was before, The Bahamas would triple its business."
He reminisced briefly about the days when King Eric and The Knights were travelling around the world, along with other musicians like Peanuts Taylor and Count Bernadino, as ambassadors for the nation. He said in those days they did very well and so did the Bahamas.
We photographed King Eric in his work room – a large open unfinished space immediately outside his front door. Speaking of his front door it is deep pink and prominently features a sign stating –  "The King is always right". Who am I to argue with that… he has certainly been doing something right.
Documentary photos by Lisa Wells. These are not the final images.