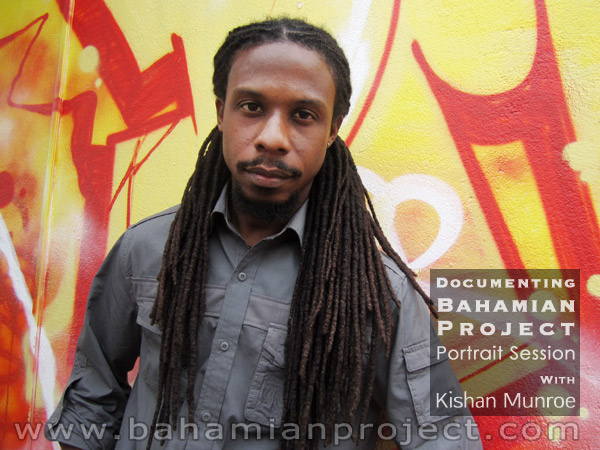 Kishan carefully emptied the contents of his backpack on to our studio table. A professional digital camera, spiral-bound sketchbooks, coloured pencils, sticks of charcoal and a full set of paintbrushes sheathed and bound. The items lay in confirmation of Kishan's artistic dexterity – his proven prowess as an artist over a range of visual mediums.
As much as he is an artist he is also a social realist, a philosopher and an adventurer.
Recently he was asked, in The Nassau Guardian's Arts & Culture's 20 Questions, what he considered to be the artist's role in society. "The artist's role in society is to, at times, represent the reality of their landscapes (social, political, spiritual etc), to act as catalysts to change those environments by addressing pertinent issues, to create other worlds, to escape these realities, to spiritually heal the broken and downtrodden, to awaken the latent consciousness of the people and to help thrust them into the future. I can claim therefore, that the artist is: psychologist, theologian, politician, friend, lover, criminal, ombudsman, arbitrator, historian, documentarian and scientist."
He has journeyed around the globe revealing stories of human struggles and triumphs. He explores the "human experience", seeking to investigate the dichotomy of life and death, of knowing and understanding, expressing emotions and feelings through art.
"I express my ideas through its complexities," Kishan says in his artist mission statement, "a world affected by the plight of human history and highly influenced by Western European customs."
Born in Nassau in 1980, he received early recognition for his talents when he was accepted into the Annual FinCo. Art Workshop – a program aimed at developing the skills of the country's most promising young artists. He also worked under the tutelage of some of the Bahamas most renowned artists, after which he went on to complete under-graduate and graduate studies at the Savannah College of Art and Design in Savannah, Georgia.
In those 20 questions he was also asked what was his most inspirational moment in the last five years. He said it was when he documented the protests against the execution of Troy Davis in Georgia and he witnessed an elderly reverend chain himself to a flagpole in front of a courthouse in an act of non-violent protest.
"Through my lens his struggle was solidified in history and his spirit of spirituality and justice lives on through my work," said Kishan.
"I was contributing to the progression of society. The influence of this memory is perpetuated in my work."