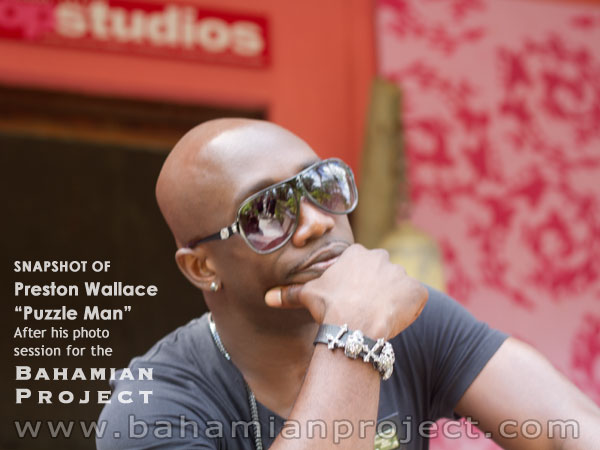 Puzzle is known for songs like Barefoot Bandit, Sour Vibes, Jobless, Mommy I Pregnant, Animal, Vote For Me and many others. He has his finger on the pulse of Bahamian society, documenting current events and our societal realities through catchy lyrics and melodies.
Born in Nassau as Preston Wallace Jr. his interest in music began in the church at a young age. He says he was born into the church, grew up in the church and sang in the church. Over the years he developed an appreciation for all genres of music and a passion for singing, songwriting and producing music.
"I've been interested in music since I was about five," he said, "I made my first guitar out of wood, fishing line and screws. I made up a drum set out of wood, buckets and paint cans. There were seven kids in my family, so there wasn't a lot of money to go around, we made our own toys."
Since October 2012, he has been working at The Ministry of Tourism as The Director of Entertainment, a job which fits him like a glove. He is a charismatic communicator and a forthrightly positive individual who enjoys interacting with people.
"You don't want anyone to feel like they are in the background. You want to leave everyone feeling like they matter to you… and they will remember you for that."
With Puzzle in our studio, we enjoyed an inspiring, uplifting power-chat that vibrated with motivational energy. Puzzle believes that you make things happen for yourself. He talked about the laws of attraction and spirituality – about the importance of speaking positivity and the power we have over own lives.
"Things are not by chance…" he said, "Our thoughts are powerful, they determine our choices and our circumstances."
"Sixty years from now, we'll be gone but kids will still be singing Barefoot Bandit and they will still be looking at these images. Each captured moment is like a story, it dictates so much."
"You're creating history with this project," he said, "You don't even know how deep this history will go."