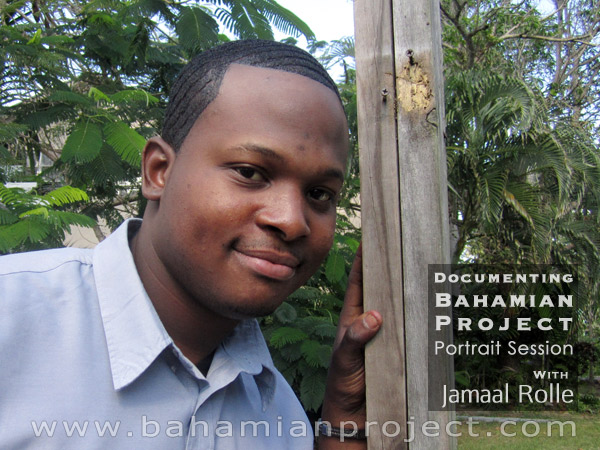 Jamaal Rolle is a young Bahamian visual artist who is becoming widely known for his portraits of famous political, entertainment, and sports figures. The portraits he has drawn include Barack Obama, Prince Harry of Wales, Sir Sidney Poitier, Oprah Winfrey, Johnny Depp, and Michael Jordan among many, many others.
And now, here was the portrait artist in our studio to have his portrait done for The Bahamian Project. He told us that he started out drawing alongside his father Harry Rolle, at Marina Village. Back then he was a young quick-sketch artist honing his natural skills. Now, at 28 years, he has developed his own style and built up a significant portfolio of famous faces.
It has not gone unnoticed.
He has been featured and documented in The Washington Post, BBC News, People Magazine, the Huffington Post and CBS News just to name a few. He is becoming well known as The Celebrity Artist. Jamaal also draws a daily political and societal-life cartoon in a local newspaper.
While at our studio Jamaal did an impromptu sketch of the Bahamian Project's photographer. Within a few minutes he had roughed in on paper an impressively accurate image of Duke. "It is just the first layer," said Jamaal, "I spend hours on my portraits filling in the details."
"I am comfortable and confident in my art. I don't mind being spontaneous because I am confident in what I do and I embrace the opportunity to draw live,"  but he notes, "I am not a quick sketch artist anymore, my work is much more detailed."
"The prime minister placed me in a category of being one of the premier artists in this country," he said proudly, "I'm humbled to be receiving this recognition nationally and internationally."
He has had no formal training, he developed his own techniques and style on the street… literally. And he takes his work seriously, it is what he really wants to do. "We look at jobs as in what is a real job or a serious job, when if I wanted to be a lawyer I could go to law school, if I wanted to be a doctor I could spend some more time at college, but I am an artist because that is what I chose to be. And it is sad that sometimes people look at art as something not serious, not a serious job."
Some of Jamaal's portraits below (click to enlarge):