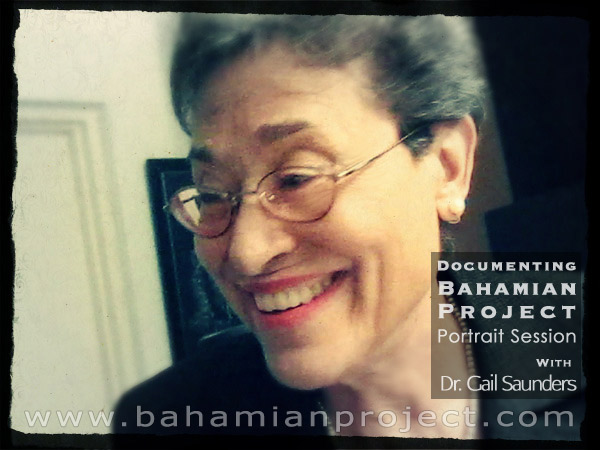 Books.
We needed books… Bahamian history books to be specific. This is what we were thinking as we planned our photo session with Dr. Gail Saunders for The Bahamian Project. Books, archives and the preservation of our history were the first things that came to mind when we thought about what we wanted to portray in her portrait.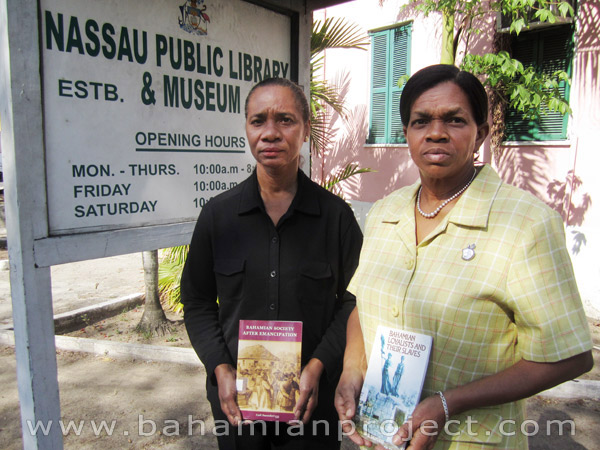 We approached the Nassau Public Library. Once I had fulfilled the formal requirements and had been thoroughly vetted, the chief librarian Mrs Murphy proved most helpful in gathering the necessary material.
Dr. Saunders is the author and co-author of countless articles and twelve books, including Bahamian Loyalists and their Slaves, Slavery in The Bahamas, 1648-1838, Bahamian Society after Emancipation, Islanders in the Stream, Vols. 1 and 2 and Nassau's Historic Landmarks.
Picking up one of the books – "Bahamas Society After Emancipation" – she recounted, "My late husband Winston said 'you've done all this writing, why don't you put them together and publish a book' so I did."
"These writings go back a little way," she continued, flipping casually through the book, "they're used a lot in schools now and cover all sorts of things… emancipation, over the hill, blockades, prohibition, changing of tourism in Nassau, the riot, the 1956 resolution, the 1958 strike which was a landmark in Bahamian history starting the march towards self-government and independence."
But Dr. Saunders has done much more than write. She has supervised the establishment of the Pompey Museum and Balcony House Museum. For ten years, she served as president of the Bahamas Historical Society and held various positions in archival and historical associations in the Caribbean and internationally. She was involved in the restoration and development of what is now the National Art Gallery of The Bahamas and served as chairman of the board.
She has been a teacher, an author, an archivist but foremost she has always been a historian. She developed and nurtured The Department of Archives and directed it for thirty-three years.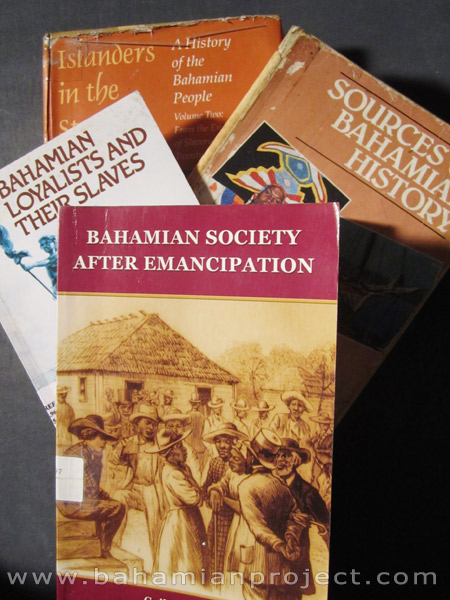 Dr. Saunders has a passion for history. She believes it is important to the growth of a country and its people.
Some time ago,  I read an article on Dr. Saunders, written by Sonia Farmer and published in The Nassau Guardian.
Ms. Farmer wrote:
To [Dr. Saunders], history is a vital part of a society's self-identity and pride. In fact, she believes Bahamian history should be a mandatory paper in the Bahamas General Certificate of Secondary Education (BGCSE) exams in order to instill a sense of self-assurance in every Bahamian.
Indeed, she believes that if that were the case, many young Bahamians in school would be exposed to heroes in all parts of society — great Bahamian politicians, heroes, artists, and thinkers.
In the article Dr. Saunders was quoted:
"What we're lacking, I think, is recognition of our heroes. Why are we so hesitant to recognize the greats among us?" said Dr. Saunders, "You don't have to be in high office to be a hero — people of very simple means can be heroes."
That quote stood out to me and still does, probably because it is what the Bahamian Project is all about… recognizing our heroes for the benefit of our emerging and future generations.