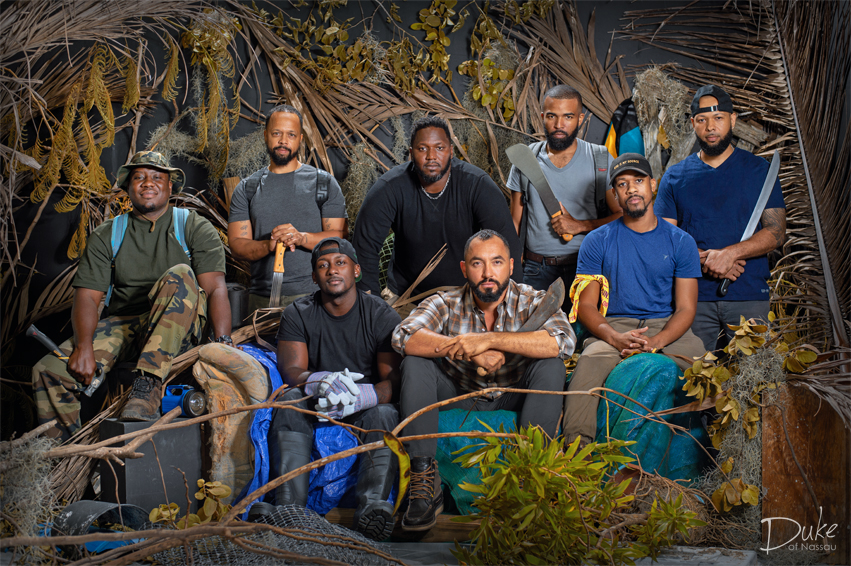 An old couch. Browning palm fronds. A battered gate. Wind-whipped vines.
Using the Bahamian Project's new Creative Center studio, photographer Duke Wells — along with the help of his wife Lisa and two assistants — spent two days designing and building a set to resemble the chaotic aftermath of a hurricane. The entire set was built from found objects around Popopstudios in Chippingham.
The portrait subjects were 8 relatively unknown men, who were actually members of a civilian rescue crew who immediately put their lives on hold and risked their personal safety by travelling to Abaco in the aftermath of Hurricane Dorian.
The storm hit on Monday — the crew was in Abaco by Wednesday, brought together by the New Providence Community Centre and flown there by Trans-Island Airlines.
Originally assigned to help clear the Marsh Harbour airport runway, the crew ended up staying for five full days following the hurricane's devastation to assist in the evacuation of 3,500 people.
Their harrowing tale of bravery is symbolic of so many Bahamians who rose to the occasion to assist those whose lives were catastrophically disrupted due to Hurricane Dorian.
Duke's effort to recognize their heroic acts of valor through a single photograph is a poignant representation of the Bahamian Project as a whole — a project bigger than itself — a community initiative that has left an indelible mark on Bahamian society.
The photography session was smooth and efficient. All eight subjects showed up on time, a rare occurrence in group portrait photography. But, then again, being where they are needed, when they are needed, is what these guys are all about. Dressed for battle and armed with their tools, the crew comfortably took their place on the set and took direction from Duke, Lisa, and Guilden Gilbert like professional models. The atmosphere was positive and jovial yet focused and determined when the shutter popped.
And by the end of the session, after all the photos had been taken, after the team had all been reunited, after the studio had been cleared, the crew of eight heroic civilian rescuers returned to their ordinary lives again.
Photo: Left to Right: Nat Beneby III, Jamal Smith, Keith Hinsey, Kipral Johnson, Brent Mayson, Michael D. Fox, Jr., Desmond Dunbar and Earl Farrington.