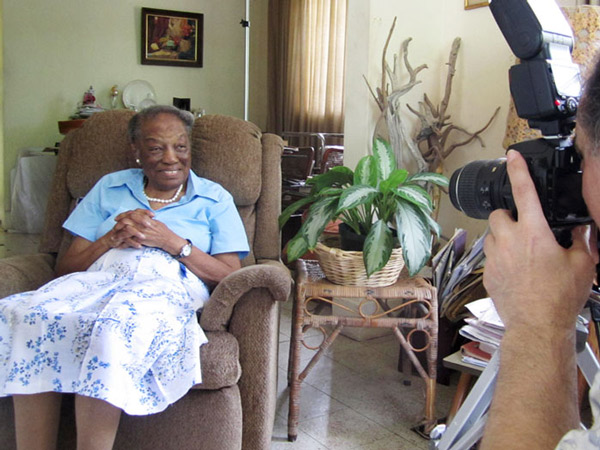 Gertrude Burnside was born on Valentine's Day and still lives in the same house in which she raised her children. The house where she spent her own childhood stands directly across the street. It is a pleasant and unassuming neighbourhood. Her yard was neatly manicured and bountiful in flowers and greenery. On the front door hung a sign – "The White House".
She watched with interest, from her favourite chair, as we busied about setting up lights and camera equipment. Looking around the living room, I felt that "lived in" coziness that is the essence of a good home. There were memories everywhere, in the hand-crocheted lampshade covers, in the straw vases, in the artwork on the walls and most certainly in the clusters of family photos. Old faded photos sat alongside others bearing the faces of the newer Burnside generations. And prominently displayed amongst the photos was the tribute to her deceased son Jackson Burnside (who also born on Valentine's Day).
When we told her we were ready to start the photography session she warned us in no uncertain terms that these photos better look good or else she would "talk about us". Afterwards we showed her the images and she nodded her approval… whew!
Photos taken by Lisa Wells to document the photo session at Mrs. Burnside's home